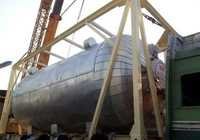 ISO Tank Container
Product Description
ISO Tank Container
ISO Tank Container is fully insulated with PUF (polyurethane foam). This type of container is used extensively in industries for storage purpose. Can store varied chemicals, liquids and gases under high pressure; the PUF insulation protects the tank container from any change in temperature. These tank containers are offered to clients in both horizontal and vertical arrangement, suitable for both above ground and underground storage purpose.
Features :
It can store the gas under the pressure from 250 psig (17.2 bar) to 350 psig (24.1 bar) for more than 30 days at 122oF (50oC) without the use of a refrigeration system
Leak proof design
Corrosion resistant
Can be transported in truck or ship
Protect the stored liquid or gas from ant change in temperature
Specifications :
Capacity : 20', 40'
Design code : ASME SEC VII DIV-1&3, PD-5500 IS-2825
Insulation : PUF insulation with AL cladding/vacuum insulated
Pressure vessel : ASME/European standard/IS-2825 coded for maximum working pressure of 300 psig (24 barg)
Liquid level gauge : Differential pressure gauge
Pressure gauge : 0 to 350 psig (0 to 28Kg/cm2g) with 6 (152.4 mm) dia
Piping : Schedule 40/80 seamless pipe, 3000 lb forged stainless steel fittings, ball type valves
Safeties : IS-2825 with SMPV rules approved direct spring loaded or pilot operated, sized for unconfined outdoor installation
Insulation : Perlite insulation minimum 200MM thickness/PUF insulation
Inner jacket specification :

ASME code section VIII, division I
Material: SA 516 grade 70 normalized and impact tested
Total volume: 4200 water gallons (15,900 liters)
Nominal L-CO2 capacity: 34,200 lb (15,512.8 kg)
Design pressure: 24 kg/cm2 G
Test pressure: 32 kg/cm2 G
Maximum allowable working pressure: 17 kg/cm2 G
Baffles: one set carbon steel
Design temperature: -40oC)

Outer jacket : Pre-finished aluminium for PUF insulation/ outer jacket SS-304 for vacuum insulation.
Applications :
Fire fighting application
Air catering
Fisheries department
Welding application
Beverage industries
Beer bottling plant
CO2 cartage filling
Dry ice blasting and storage cooling
Contact Us
B- 90/A 1, Shiwam Apartment 2, Shalimar Garden Extension 2, Ghaziabad, Uttar Pradesh, 201005, India
Phone :+918068214268